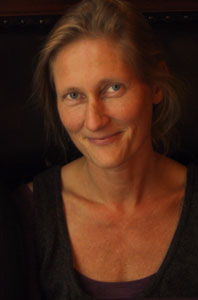 Mona J. Hoel studied photography in New York 1982-85, and film directing at the Dramatic Institute, Stockholm, Sweden, 1986-89. She directed her first featurefilm At Ease, in 1995.
Before this she had directed several nominated short and documentary films; The House, The beauty or the beast, Come with me to the sacred mountain, the best known.Altoghether she has written, directed and produced about twenty shortfilms, pricewinning advertisementfilms, feature films for cinema and television. Many of them pricewinners at known short and A festivals like Karlovy Vary, Clairmont Ferrand, Leipzig , Moscow, Mannheim-Heidelberg International Filmfestivals.
In 1996 she made the short feature Float, a part in the feature film Breath, produced by Norwegian Film Studios. She recived very good critics for her episode, written in collaboration with Arne Berggren. In 2000 she wrote and directed the dogma nr. 19 Cabin fever/Nar nettene blir lange. It participated in the main competition in Karlovy Vary, 2000, with eight other titles, among them Amelie from Montmartre and her film was predicted a box office by Screen International magazine. Cabin fever was also screened at the Toronto International filmfestival 2000, and choosen to be that years Case Study, for it´s different production teqniques. She collaborated with her companion Malte Forrsell in producing it.
Cabin fever was also choosen as the film of the year by the popular magazine Night and Day in Norway and won two Amanda awards at the Haugesund International Filmfestival. The price of honour to Kari Simonsen for her part as the mother and best male actor to Svein Scharrffenberg, for playing the alcoholic father.
Her next feature film, Chlorox, ammonia and Coffee, had a premiere in Norwgian cinemas august 2004. November 2004, it won the prestigeous, main price at the Mannheim Heidelberg International filmfestival. Aftrer this she has made the low budget film From green to white, 2011, and has been developing her next featurefilm Ironhorse.
She took a timeout after her father´s sudden death in february 2008, and did other things for a period. Worked in a bakery, selling bread and cakes, making a living this way while researching our social structures seen from behind the counter. The financial crizis came and she observed norwegian pensioners not affording more than half a loaf of bread. What also struck her was the low pay and desperate job market. A lot of youth running away from Sweden, lacking work there, taking any job here, making less per hour than us, and beeing taken advantage of for their desperation for work.
This was a very interesting period. She now found the way back to her intuitive way of working, the camreaeye and the actors beeing her nearest instruments, shooting alone, responsible for directing, camera and sound, aiming at getting back in touch with her inner visual voice, like in the New York days with the super 8 tecnique. She made a doggumentary called So you thought I died, a portrait and a kind of testament for Elsa Lystad, the great Norwegian comedienne, 81 years old, not wanting to disappear.
She is now picking up the work on Ironhorse, but will make it in a very different way from how they planned it three years ago.